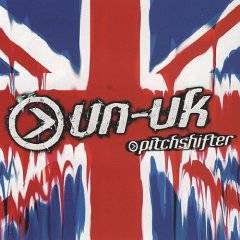 What better way to celebrate the 4th than with part 1 of my brief history of British band Pitchshifter, right?
I don't know why I am obsessed with Pitchshifter again lately. I was thinking of this cool Tee I used to have (and eventually wore to death) and the fact that I have their "eye" logo tattooed on my left arm means that they're never far from my mind. The good thing about them being on my brain is the chance to go through their catalog and reflect on how great they were and the (maybe?) promise of some new material.
For those who don't know, Pitchshifter were (are?) a UK band who started out as an industrial monster in the vein of Godflesh. Vocalist J.S. Clayden had Justin Broadrick's growl down pat. They had an unmistakable guitar wail that I always found to be their signature. I initially discovered them from "Triad", a song included on the Brainscan soundtrack, which led me to pick up Desensitized (Their second album.). "Diable" is one of the greatest album openers ever. There's a thunderous drum and bass rumble that drones along like a warning of the coming apocalypse. Then that guitar wail I was telling you about kicks in and it's all over. The rest of the album showcased a sound that would become the band's signature by infusing crushing riffs with dance beats. "To Die Is Gain" is a great example of this and shows where Pitchshifter would end up on their next disc.
Follow-up Infotainment? was a more polished affair but still kept the growl (but added some actual singing) and the chugging guitar riffs. The drum 'n bass beats were prominent right away on "Underachiever" as was J.S. Clayden's new style of singing. Brother Mark Clayden's bass is such a driving force of Pitchshifter and there's no more obvious case than his contributions to songs like "Whiteout" and "Virus" on Infotainment?. Besides the experimentations with drum 'n bass, Infotainment? was also adding more electronics and samples to the PSI sound and even had two tracks ("Pitch  Sampler, Vol. 1", "Pitch Sampler, Vol. 2") comprised solely of samples for listeners to use.
1998 brought www.pitchshifter.com (Featuring "Genius" and one of my all-time favorite bass lines!) and the major labels and another leap in the Pitchshifter sound but you're going to have to wait until next week for that story…