Following the death of Ian Curtis, the remaining members of Joy Division decided to embark on an entirely new project, although it would take some time for the group to find its own voice. Formed in 1980, New Order augmented the trio of Sumner (guitar, vocals), Hook (bass), and Morris with keyboardist Gillian Gilbert (Morris' then-girlfriend and now-wife).  The band went on to have a fairly prolific career, although the stream of releases slowed significantly by the mid- 1990s, partially due to in-fighting and a breakup/reunion cycle that continues in the present day. Particularly with their '80s material, New Order created a unique blend of electronic pop that always had a hint of darkness around its lining.
In case you missed it, our Note for Note guide to Joy Division is right here.
Movement (1981)
Situated at the midpoint between "Love Will Tear Us Apart" and "Age of Consent" in more ways than one, Movement is an apt title for a band in transition. Though technically a new band with the addition of Gillian Gilbert to the surviving lineup, Movement displays some continuity with the band's earlier incarnation. Martin Hannett's characteristic production keeps the instrumental performances, particularly the drums, linked to the sound of Closer, and the vocalists (primarily Bernard Sumner, with a turn from Peter Hook) offer their best Ian Curtis impressions on a largely-dour set of tracks. Despite this, listeners get a glimpse at a more optimistic future on the stellar "Dreams Never End," and dance beats and synthesizers begin their creep toward prominence on "Chosen Time." While not an essential musical work overall, Movement is an essential musical bridge between the two musical lives of its players.
Grade: B- (Rob)
Power, Corruption & Lies (1983)
If 1981's Movement was a band struggling to find it's musical identity, 1983's Power, Corruption & Lies is where that identity began to truly take shape. While Bernard Sumner's vocals on the album still lack confidence, overall the album presents a much more coherent and consistent sound. Movement found the band trepidatiously incorporating more electronic instrumentation but holding steadfastly to much of Joy Division's aesthetic style. With Power, Corruption & Lies, New Order more openly embraced the electronic instrumentation that would help to form their trademark sound.
That New Order sound may have been more strongly solidified by the non-album singles surrounding Power, Corruption & Lies — "Murder," "Confusion," "Thieves Like Us," and "Blue Monday." The latter is perhaps the song most widely associated with New Order, its popularity prompting retailers to slap a sticker on the album's cover declaring, "DOES NOT CONTAIN BLUE MONDAY." While the "Blue Monday" single may have overshadowed Power, Corruption & Lies, the album is a solid effort that includes some of the band's best-loved material, such as the airy, percolating "Your Silent Face," the dirge-like "We All Stand," and the driving "Age of Consent" (AT&T commercials be damned).
With the coalescence of New Order's sound and a renewed sense of vision, Power, Corruption & Lies laid the groundwork for the albums immediately following.
Grade: A (Gonzo)
Low-Life (1985)
1985's Low-Life easily ranks as my favorite New Order record. Power, Corruption & Lies may be where the band found their sound, but Low-Life is where that sound fully cohered: Sumner's vocals, the blend of electronics and guitars, and New Order's brand of emotive dance pop are polished and pristine throughout. The band's club leanings are best exhbited on singles "The Perfect Kiss" and "Subculture," a proclivity that would develop further as their career progressed. This provides an intriguing contrast to more rock-oriented tracks like "Sunrise" and "Sooner Than You Think," not to mention the instrumental soundscape of "Elegia" (of which a fairly inessential 17-minute version exists). Low-Life was also the first New Order album to crack the US charts, albeit peaking at only #94.
From a lyrical perspective, album opener "Love Vigilantes" is particularly interesting. It begins as a fairly innocuous narrative of a soldier longing to return home to his family, though he is cognizant of the value of the current military effort. The lyrics takes a surprise twist in the song's final verse, a strategy that would reappear in the 1987 b-side "1963."
New Order would produce more great albums in the following years, but in my book, Low-Life remains the goup's artistic peak.
Grade: A+ (Gonzo)
Brotherhood (1986)
Brotherhood is an apt follow up to Low-Life; like its predecessor, Brotherhood straddles the fence between New Order's dancier side and more rock-oriented material. The album is most notable for "Bizarre Love Triangle," a perennial favorite that at #98, was the group's highest charting single in the US to that point. The song did much better among the dance club crowd.
Beyond "Bizarre Love Triangle," Brotherhood includes some of the group's strongest material, including "All Day Long," "Paradise," "Subculture," and "Every Little Counts." Although a great album (save the plodding "As it is When it Was"), it doesn'tgel quite as well as its predecessor. Even so, it remains a standout within the New Order discography, and can in some ways be viewed as a bookend to the first phase of the band's career, particularly as the band's next release would be the 1987 compilation Substance.
Grade: A- (Gonzo)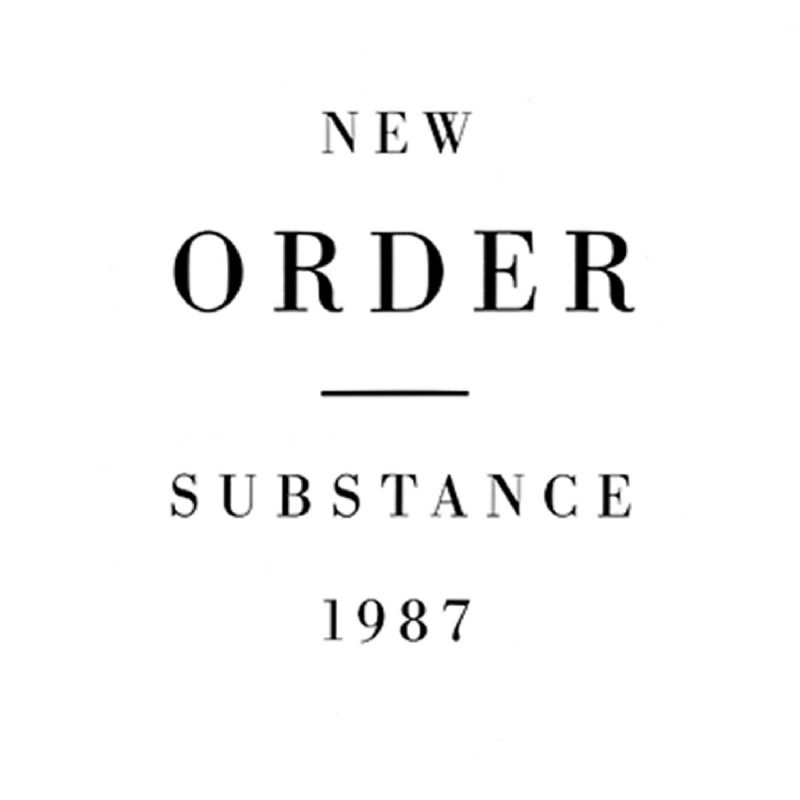 Substance 1987 (1987)
As had been tradition in the UK, the majority of New Order's singles were non-album tracks. By 1987, the group had amassed 10 such singles, plus b-sides, remixes, and alternate versions. Like the similarly-named Joy Division collection, Substance 1987 brings together most of the group's singles output for the first time. Although since made redundant by deluxe remasters of New Order's catalog and a number of subsequent collections, Substance 1987 was an essential release at the time – particularly for those who hadn't invested in the band's individual singles. In addition to gathering gems such as "Temptation," "Blue Monday," and "Bizarre Love Triangle," Substance 1987 showcased the then-current single "True Faith" and its b-side, the dark "1963." "True Faith"gave the band it's highest charting single to date in the U.K. (#4) and the U.S. (#32), and would reappear two years later on the Bright Lights Big City soundtrack. Although now out of print and obsolete, Substance 1987 remains an important document the first seven years of New Order's existence.
Grade: A (Gonzo)
Technique (1989)
In  between the release of Brotherhood in 1986 and Technique's 1988 launch, New Order had their first major Top 40 exposure in America, thanks to "True Faith." The success of the song (which was at least partially due to its' prominence in the Michael J. Fox/Robert Downey Jr. flick Bright Lights, Big City) led to heightened expectations for the full length follow-up. If pop history is any indicator, one could reasonably expect that Technique would then feature a bunch of "Faith" clones. While there are several songs that could be considered such, the fact of the matter is that "Fine Time," "Mr. Disco," and "Round and Round" are state of the art dance/pop not much different from what New Order had been recording prior to "True Faith." "Vanishing Point," however, is pretty much "True Faith" part 2. It's good enough that you'll forgive them, though. Besides, you can't fault them for attempting to repeat the formula that brought them their biggest success to date. Far more egregiously- the peppy"All The Way" is a bald-faced ripoff of The Cure's "Just Like Heaven." That error is mitigated by "Run," which slows the tempo slightly but has a cinematic sweep (hey, there's strings!) that makes it the best song on the album. Technique didn't catapult New Order to the top of the charts, but it is a pretty solid addition to their catalog .
Grade: B (Big Money)
Republic (1993)
The first New Order album following the dissolution of the Factory label, Republic is also notable for bringing the band into the 1990s. Trends in dance music change rather quickly, and many of the dance/pop artists of the 1980s did not transition into the next decade gracefully. New Order pulled it off, although the quality of Republic is varied.
The album opens with a string of the album's singles, opening with "Regret." "Regret" is one of the band's strongest singles, evidenced by its chart performance on both sides of the Atlantic; surprisingly, it is also New Order's highest charting single on the US pop charts (#28). Follow up singles "World" and "Ruined in a Day" are also quite strong, and not out of place within the album. Particularly in the first half of Republic, arrangement and production styles helped to advance the band with then-current trends in dance music, and there are even aesthetic echoes of the then-burgeoning trip-hop genre.
Unfortunately, the album loses focus in its second half. While the songs aren't especially bad, they're somewhat indistinguishable from one another. In that respect, the unremarkable second side of Republic detracts a bit from the strength of side one. Even so, Republic continued New Order's increasing interest in more heavily dance-oriented material, and brought the band into a new decade with a handful of surprisingly strong tracks. Shortly after the completion of Republic, New Order disbanded to pursue solo projects, although they would reconvene by decade's end.
Grade: B+ (Gonzo)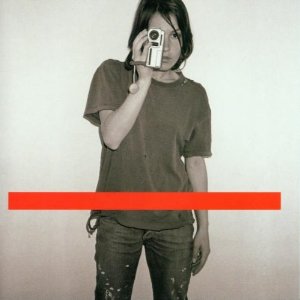 Get Ready (2001)
After nearly a decade of absence from the recording studio, Get Ready is by and large an unlikely late-period success. While by no means a rock record in the typical sense, Get Ready witnesses the band giving the guitar its turn at the forefront of the mix, with guitar-driven chord progressions dominating while synthesizers largely accentuate the uncharacteristically driving sound. That said, the exceptions to the rule here are the gorgeous and restrained electronics of "Vicious Streak" and the agreeable closing ballad "Run Wild." The tracklist in general serves up an impressive collection of hooks, though carrying in abundance the usual Sumner lyrical clunkers ("Here comes love / it's like honey / you can't buy / it with money," no doubt a nod to the apparent Great UK Honey Shortage of 2001). No one listens to New Order for the lyrics, though, and fans will likely feel rewarded overall by the surprisingly strong composition and instrumental work on display here.
Grade: B- (Rob)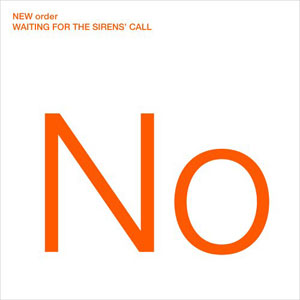 Waiting for the Sirens' Call (2005)
Rather than wait another eight years for the follow up to Get Ready, New Order quickly returned to the studio for their next offering. Waiting for the Sirens' Call would be the first New Order album to not feature the band's original lineup; Gillian Gilbert bowed out of the group to raise the children she and drummer-husband Stephen Morris had together. The departure of Gilbert no doubt had its effects on the band's sound, although in many ways Waiting for the Siren's Call is a continuation of the more guitar-driven work on Get Ready. It's a competent album, but not one that is particularly noteworthy  – especially when juxtaposed against the band's back catalog. Truthfully, Waiting for the Sirens' Call sounds a bit anachronistic: its driving guitar / subdued electronic aesthetic is more akin to what was happening musically 3-5 years earlier.
This isn't to say that it's a bad album. In fact, much of the disc is enjoyable for what it is: a late-period album by a band past their prime, trying at once to move into a slightly new direction without completely forgoing their trademark sound. Truthfully, it isn't hard to listen to tunes such as the title track or the single "Krafty" and imagine them fitting into New Order's 1980s catalog. Yet as a whole, the album is not terribly compelling, and offers little in the way of memorable material.
Grade: C+ (Gonzo)
Lost Sirens (2013)
Recorded shortly after the Waiting on the Sirens' Call sessions, Lost Sirens was shelved the band broke up in 2007. When the band reunited in 2012 (sans Peter Hook), plans to release Lost Sirens were further delayed, apparently at Hook's hand. Finally released in January 2013, Lost Sirens sounds like what it is: a collection of leftovers from an already tepid album. Rather undeserving of their own release, these eight tracks would have been adequately showcased in a reissue of Waiting for the Sirens' Call. Regardless, Lost Sirens is wholly unremarkable, with no real standout tracks to speak of. Ultimately, Lost Sirens is an inessential and unnecessary release, but the very idea of a new New Order release generated some excitement, pushing the album to #23 in the U.K. (only Movement had ranked lower).
Grade: C-(Gonzo)
For Further Information:
New Order Story is a feature length documentary from the Republic era that documents the band's career to date, while A Collection compiles New Order's music videos along with a few live performances; the 2-DVD set Item presents both of these discs in a single package.
As for the music, in 2008, Rhino reissued all of the Factory Records albums in deluxe 2 CD sets including remixes, b-sides, and rarities. For the completist, these reissues are the way to go. Beyond that, all of the band's post-Factory works are available in bare bones formats only at this time. If you're not quite ready to delve into the entire catalog, there are a number of collections at your disposal. The most comprehensive is the 2-disc Singles release issued in 2005. The recently released Total brings together Joy Division and New Order material for the first time, although this single-disc collection doesn't do justice to either band's catalog.
We however, hope to have done justice to both in compiling our Spotify playlist to accompany the Joy Division and New Order Note for Note posts. Take a listen!
Incoming search terms:
new order movement
new order substance