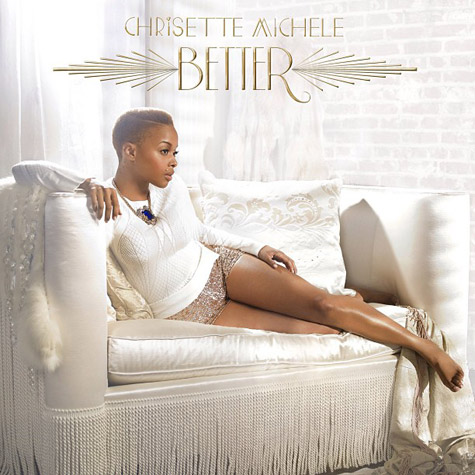 R&B and I have had a rough run of it over the past few years. With the exception of a couple of outliers (Ne-Yo's Libra Scale, Frank Ocean's Channel Orange, Janelle Monae's The ArchAndroid), there have not been R&B albums that spoke to me the way that old school Mary J. Blige, Jill Scott and Robin Thicke did in the late 90s and early 2000s. Chrisette Michelle fell right into the middle of that rut, despite getting off to a strong start in 2003 with her Grammy-winning "Be Okay." Her last album Let Freedom Reign was okay, but something wasn't connecting. The clear upbeat message of "Be Okay" was replaced with a less-focused effort that infused some worldlier and even political undertones into the music, and the album was met with indifference by much of the record-buying public. Thankfully, Michele's fourth long-play Better captures an upbeat, forward-looking and optimistic artist presenting the most cohesive and centered album of her relatively short career.
Better kicks off with "Be in Love," a short but impactful jam that states for all to hear that love may have not worked out in the past, but Michele is "not afraid to fall again." That optimistic vibe carries over to her current Top 10 Urban AC single "A Couple of Forevers," co-written with the legendary team of Kenny Gamble and Leon Huff. "I'm the only one, you're the only one/Together 'til never/I'm talking 'bout forever/Just a couple of forevers." On the title track that finds Michele once again reminiscing about a future love, Chrisette asks for Cupid's help as "Mr. Wrong keeps meeting me." This is a woman who isn't afraid of stepping back into the line of fire, no matter what experience she has been through, and that optimism permeates the entire disc.
Is there a drawback to Better? Not really. Granted, 2 Chainz sounds very out of place in the middle of cameos from Bilal and Wale, but even his verse on "Charades" sounds subdued and is not as glaring as one would expect. The Deluxe Edition bonus tracks "Ten Foot Stilettos" and "I'm Still Fly" do not sound like throwaways, although final track "Love in the Afternoon" stands out in a bad way with a more overtly sexy vibe. Still, Better shows an artist who is clearly comfortable in her upbeat skin, gladly holding out for her happily ever after instead of bemoaning all the failed attempts at love in the past. This is the more mature and wise version of the Chrisette Michele we met on "Be OK," and I have a feeling we are going to be pretty tight going forward.