The Steel City. The City of Champions. The Golden Triangle. Sixburgh. The City of Bridges. Pittsburgh goes by many names, but my personal favorite is of course "home." I was born and raised in the Pittsburgh area, and a five year notwithstanding, have lived here for as long. One of the things that most surprises me about Pittsburgh is its perception in the broader culture. Oftentimes, when people think "Pittsburgh," they picture something like this:
True, for decades, Pittsburgh was a locus of industry whose steel mills drowned the city in a perpetual cloud of smog. This is the Pittsburgh that became known as "Hell with the lid off." This is the Pittsburgh Groucho Marx made jokes about. This is a Pittsburgh that hasn't existed for over forty years. Since then, Pittsburgh has evolved into a vibrant, booming city. Publications from Forbes, Places Rated Almanac, The Economist, Entrepreneur, CBS Money Watch,Yahoo, and U.S. News consistently cite Pittsburgh among the most liveable cities in America (often awarding us the top spot on the list). That may seem a rather empty superlative, but the point stands that in 2013, Pittsburgh's economy, geography, and culture are a far cry from the days of steel and smog. If you visit our fair city, here's a brief guide to some of our local treasures.
Let's start off with some history. And by "history," I of course mean hitting Wigle Whiskey, the first distillery in the area since prohibition.
FACT: Pittsburgh was the epicenter of whiskey production in the colonial era. After all, the region was home to the Whiskey Rebellion in the 1790s. In fact, Wigle Whiskey is named for a particularly feisty local who refused to pay taxes on his wheat and whiskey production, although I'll leave it up to Eric or Meryl to give you the rest of the story as you tour their chic urban distillery. And afterwards (or perhaps before…and after), you can sample a flight of Wigle's organic spirits, or try one of their ever-changing featured cocktails. On your way out, pick up a bottle of their unaged wheat or rye whiskies. Or how about their botanical, Dutch style gin? If you're lucky, maybe you'll catch them on the day of a release of their small batch series of aged whiskies.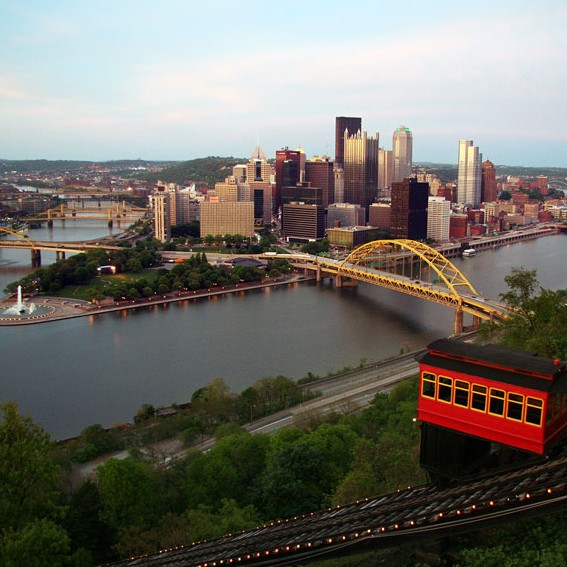 Now that we've gotten some local education, let's explore. Perhaps as you let those beverages settle, you'd like to take a ride on one of our two inclines which places you high above Mount Washington. This is hands down the best view of the city, and will give you a good vantage point to absorb our unique urban landscape.
Back at ground level, maybe an afternoon at the ballpark floats your fancy.
Sure, the Pirates have had a 20 year losing streak (with pockets of hope peppered throughout),but we do have a hell of a ballpark. Trip Adivsor actually just named PNC Park as America's best. I'm not a baseball fan, but my summer feels incomplete if I don't catch at least one Buccos game. After over a decade, the park still feels "new" and provides yet another great view of Downtown Pittsburgh, often illuminated by a Zambelli fireworks display (one of our local obsessions).
If a day at the ballpark isn't your speed, how about an amusement park?
Pittsburgh's Kennywood Park has been haven for local recreation and amusement for over a century. Kennywood prides itself in striking a balance between the charm of the old time family amusement parks and more contemporary thrills. We've got three classic wooden coasters, including the Thunderbolt, "King of the Coasters" in its day. We've got a few slick steel coasters as well, perhaps most notably the Phantom's Revenge (pictured POV above), the tallest and fastest coaster in the world at the time it was built. We've got some crazy thrill rides that make me dizzy just watching them, but the park also boasts many classic rides too, some of which are the last of their kind, such as the Kangaroo flying coaster, the Noah's Ark dark ride, and the 16-car whip. Truthfully, it's my favorite way to spend a summer day, between the coasters, the junk food, the water rides and the carnivalesque atmosphere.
Like most amusement parks, Kennywood also has its share of carnival games and some classic arcade games as well. But if arcades are your thing, let's head on over to the city's South Side to spend some time at Games n'At, an independently owned arcade (and it's BYOB!). Sure, you can try your luck at Skee-Ball, hoops, air hockey and other assorted skill games. But you can find me in the vintage room, pumping quarters into Donkey Kong, Space Invaders, Pac-Man, Asteroids and the like. But I've always got one eye on the the 1978 KISS pinball machine, impatiently waiting my turn.
Let's stop off for a bite to eat, shall we? Historically, Pittsburgh is known for many things – rivers, bridges, ketchup, steel, Super Bowl rings, etc. What fascinates me is that on more than one occasion, someone has said, "Oh, you're from Pittsburgh, they have those crazy sandwiches there, right?"
Right.
The original Primanti Brothers is located in the heart of Pittsburgh's Strip District, essentially the city's wholesale market area. As legend has it, the "almost famous" Primant's sandwich came about because of its portability, allowing truck drivers to ingest three courses in one fell swoop. Every sandwich comes stacked with cole slaw, tomato, and French Fries, and they don't take kindly to folks who order sandwiches less any of the key ingredients. There are now a number of Primanti's locations scattered around town (including one in PNC Park!), although the original has the best ambiance.
Pittsburgh may not have quite the metropolitanism of New York, Los Angeles, or Chicago, but it nonetheless has a strong and diverse ethnic population. One of the largest groups in the city's ethnic history are the Polish. The Polish families who settled here brought pierogies. And everyone in this city (Polish heritage or no) is eternally grateful.
There are a number of great spots to get pierogies in Pittsburgh. A popular favorite is the Bloomfield Bridge Tavern, although Pierogies Plus (just outside of the city in McKee's Rocks) is the gold standard. A service station turned pierogie shop run by first generation immigrants and providing varieties of pierogie that most of us would never dream up. Jalepeno? Spinach and ricotta? Apricot? Cottage Cheese? You bet. Another favorite pierogi spot is one of the city's legendary dive bars, Gooski's. Aptly located in the city's Polish Hill neighborhood, Gooski's reputation is built on number of core elements: pierogies; a well curated jukebox; live rock and roll on the weekends; and cheap, stiff drinks. Let me repeat for emphasis: cheap, stiff drinks. The pierogies here come in a few varieties, but get 'em early. I've attended many rock shows at Gooski's only to have the evening darkened by those heart-sinking words: "I'm sorry, we sold out of pierogies for the night."
If you can't get enough of that Eastern European cuisine, I recommend one of the area's most unique and intimate dining experiences, Jozsa Corner. You can stop by the lunch counter in the afternoon, but for the full experience, make a reservation well in advance for you and your group. I know that The Olive Garden rides high on its slogan that "When you're here, you're family." This is of course, utter bullshit. By contrast, Jozsa Corner is the singular dining experience in which I felt like I was truly a guest in someone's home. Aesthetically, you are – the restaurant operates out of a house in the city's Hazelwood neighborhood. 70 year-old head chef Alex runs the operation family style, happy to bring plate after plate of dishes that are running low. In between his cooking and serving, he'll talk with everyone, sharing stories of his family heritage. A truly unique dining experience set apart by plenty of home cooked ethnic cuisine.
For a nice after dinner drink, one of my favorite spots is Olive or Twist, a martini bar in the city's cultural district. I respect a place that has separate menus for cocktails and foodstuffs. The drink menu does change every once in a while, but there's never a shortage of tasty beverages to sip on. Among my favorites are the Key Lime Pie and Perfect Pear martinis, although perusing the menu online, I spot some new additions that I must go "research" (I'm looking at you, Cucumber Watermelon martini and Honey Tea Manhattan).
Of course, there is no shortage of watering holes in the city. I already mentioned Gooski's; another favorite dive is Kelly's in East Liberty (S'liberty, as the locals say). Kelly's is a cozy spot that has the retro aesthetics of a ''50s diner, meets 21st century hipster chic. Beyond the standard cocktails, the bar features specialty cocktails sponsored by the local chapter of LUPEC (Ladies United for the Preservation of Endangered Cocktails). There's also a pretty bangin' jukebox, although they also have a rotating cast of DJs that go well beyond your typical bar music. And their food is actually pretty good here too – they're perhaps best known for their mac n' cheese.
Is beer more your speed? Perhaps a trip to D's Six Pack and Dogs in Regent Square will suit your fancy. Their legendary beer cave boasts over 1,000 craft microbrews, imports, and domestics. If you're hungry, this place is known for their dogs, as you might have suspected. Standard dogs? Got 'em. Corn dogs? Got 'em. Veggie dogs? Got 'em. Dogs with mac n cheese on top? Got 'em. Dogs with slaw and fries on top? Got 'em – and many more. Their subs and pizza get the Dr. Gonzo seal of approval as well.
Now how about some music-oriented nightlife? You may know that many of us in the Popblerd crew are karaoke junkies. There are plenty of places to sing your heart out, although at present, two spots stand out among the array of options. The first is Del's in the Bloomfield neighborhood. Bloomfield and its neighbouring 'hoods have undergone a revitalization of sorts in the last decade, and Del's karaoke is an interesting microcosm of this cultural shift. You might get a strong hipster presence, but there will be just as many middle aged locals belting out tunes right along with you. The bar space is small, but the drinks are affordable, and you'll be able to sing a-plenty.
A bit outside of the city in the borough of Blawnox, there sits my other favorite karaoke spot, Bob's Garage. This is very much a locals spot ("Yinzers," in the city's parlance). I recommend going around Christmas time, when the place is decorated to the hilt in such a manner that would make Clark Griswold blush. I think this is what Elton John meant by "stepping into Christmas." If you're lucky, you'll witness the bartender do his rendition of "Mack the Knife" or "Rockin' Robin," while never missing a beat with mixing and serving drinks.
If it's live music that you fancy, Pittsburgh has had a great boost in venues in recent years. Howler's Coyote Cafe is one of my favorite local clubs (rest assured, there will not be cowgirls dancing on the bar). It's a pretty straightforward rock club, but unlike most spaces of its size, Howler's has a pretty great sound setup, and staff that know how to use it. Not far from Howler's is the Mr. Roboto Project, recently relocated, revamped, and reimagined. What's cool about Roboto is that it's run as a co-op by its volunteer membership board. It's also all ages which is cool for the under 21 crowd, but it also means you have to imbibe elsewhere before coming in for a show. Mr. Small's Theater in the neighboring borough of Millvale is the city's reigning mid-size venue. It's also a renovated Catholic church with two bars in the main area. The irony is not lost when folks like Gwar play shows there.
These are just a few of the fine venues in town, but who should you see? Since moving back to Western, PA (and later, Pittsburgh proper), I've been stunned by the amount of great musicians currently roaming about the city. Among my favorites: Neighbours (soul-tinged garage rock), The Lopez (noise-pop two piece), Broken Fences (intricate acoustic duo), Jimbo and the Soupbones (Allegheny blues), Pet Clinic (straightforward rock), and Donora (indie pop). Of course there's also the goofy hip hop of Grand Buffet (who've had some national exposure), or the funky instrumentals of East Liberty Quarters (though they rarely play live). A recent favorite of mine is Mark Dignam and his group the House of Song. A Dubliner who's made Pittsburgh his second home, Dingam's music certainly leans heavily toward his cultural heritage, and it's one of the most unique groups in the 'burgh. The simple point here is that there are many great bands in Pittsburgh, and many great places at which to hear them.
But what about buying music? For its size, Pittsburgh has been blessed with many great music stores that continue to weather the storm of the digital music era. The grandaddy of them all is without a doubt Jerry's Records in Squirrel Hill. Jerry's (formally known as Jerry's Fine Used Records). Jerry has been selling nothing but vinyl for "33 1/3 years." All of your major genres are represented of course: soul, rock, jazz, alternative, country, classical, etc. But beyond the incredible selection within these genres, Jerry's boasts plenty of niche genres as well. Calliope music? Check. Children's? Check. Radio dramas? Check. Belly dancing music? Check. No stone left unturned, no genre unrepresented at Jerry's. The place is huge. This photograph is of the main store space, but there are a few ancillary nooks rooms as well. I go to Jerry's often, but every once in a while I like to just kill an entire Saturday afternoon digging through the stacks. Beyond the insane selection, Jerry's records are cheap! Most LPs are $3-8. It's absolutely the must-stop record shop in Pittsburgh.
But as I said, Pittsburgh has a number of great brick and mortar record stores. Attic Records in Millvale is a good place to browse around. They sell CDs too, but the vinyl is the heart and soul of the store. They're especially well known for their selection of oldies 45s. Another favorite is Sound Cat (formerly Paul's CDs). Sound Cat primarily sells CDs, and is known for their selection – particularly in jazz and world music. But there's plenty of rock, indie, and other genres as well. This is also my best suggestion for new vinyl. 720 Records is another great shop that also serves as  a kind of community hub. Initially, 720 built it's name on its selection of hip hop. That remains a specialty, but it's also a great spot for jazz and local music. In fact, you can catch live jazz there on Wednesday nights, or you can stop by for their occasional Sunday brunch events. They also have a small but well curated selection of books, magazines, and music-related novelties – it's just a great place to browse (but don't expect to leave empty-handed). A recent addition is Mind Cure in Polish Hill, which for a smaller space, has a great selection of used vinyl and, like 720, a great place to find music from local artists.
Fancy a movie? Like the many mom and pop record stores, Pittsburgh is fortunate to have a number of independent movie houses for a city of its size. Sure, we've got plenty of multiplexes, but what if you'd rather see indie films, documentaries, or repertory and cult classics? The core of the city's indie theaters is the Pittsburgh Filmmakers organization. In addition to exhibiting films, they also run extensive educational programs in filmmaking and production. But those of us who limit our film activity to consumption, they have three great theaters around town: the Melwood Screening Room in Oakland, The Harris Theater downtown, and the Regent Square Theater in the neighborhood of the same name. Just south of the city in Dormont lies the beautifully restored Hollywood Theater, recently featured in Stephen Chbosky's The Perks of Being a Wallflower (I opt to sit in the balcony!). Clear on the other side of town, there's the Oaks Theater, which shows a mix of mainstream and indie films. What I most love about the Oaks though is their annual Moonlight Matinee festival every summer.
There is of course plenty more to do in Pittsburgh, but these are some of the essentials and some of my personal favorites. The Steel City has been on an upswing for the last 15 years or so, and a visit might just convince you of it.