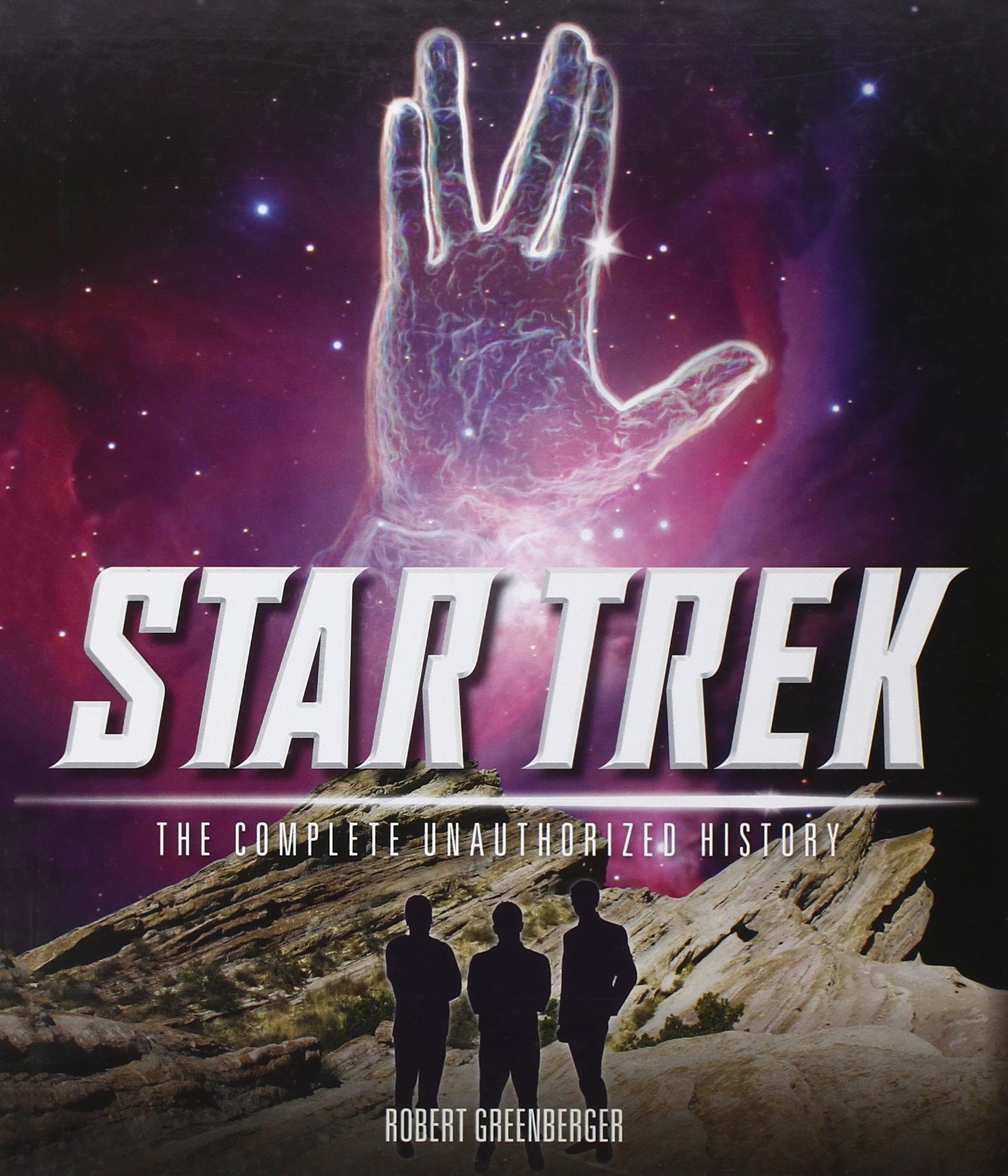 For nearly fifty years, the Star Trek franchise has held fans in rapturous delight with its mixture of morality and sci-fi action. Much like the Bond film series, it has seen many trials and tribulations throughout its life. Despite the cancellations and delays, the fans have been the most integral part. While Star Trek was floundering after its initial cancellation in 1969, founder Gene Roddenberry fought to find a way to keep the franchise alive. Mostly driven by the fans, Trek conventions began popping up around the country and raised interest enough to cause Paramount to realize it had a cash cow on its hands. For those that didn't live it firsthand, Robert Greenberger has provided us with a fascinating look at the saga in "Star Trek: The Complete Unauthorized History."
Split into 20 easily digested sections that highlight each of the five television shows, as well as the films, the book focuses mostly on the original crew and the initial development of Star Trek. As time goes on, and we learn more about the expansion, we see how the fandom reacted to the multimedia empire Star Trek was becoming through books, video games, comics and other merchandise. We begin with a great deal of information on the original series and continue on into the dark times of the 1970s, when Roddenberry and Trek's fans attempted to reignite the series through an animated venture. From there we branch off into the eleven films and four spin-offs that elaborate the franchise, and how fans will sustain the passion for years to come.
The book also points out several interesting anecdotes, almost forgotten to time, that many casual fans will be delighted to learn. Did you know Eddie Murphy was almost cast alongside the original crew in 1986's Star Trek IV: The Voyage Home? Try this on for size – apparently Nichelle Nichols (Uhura) was thinking of leaving the show when none other than Martin Luther King Jr. met with her and convinced her to stay on television as proof of the advancement of civil rights. These anecdotes shine a light on points in Star Trek's history that prove how integral to pop culture it has been.
You can tell that Greenberger is a die-hard fan, as he guides you through the book like he's telling you a story from his own recollections. While this is a fine point of view, it sometimes feels as though he expects you to know some details beforehand. Also, a majority of the photos in the book depict the merchandise throughout the years. It's a clever way to represent everything, especially for those fans that love seeing the eclectic mix of toys and soundtracks and books. The only downside to this is that it feels as though something is lacking – I could hear Dr. McCoy saying "I'm a doctor, not an action figure!"
Despite these slight shortcomings, it is truly the fans that drove the series, and they deserved a look at their franchise from a fan like Greenberger. It's always been a sense of discovery that has driven the Star Trek franchise, and here is a way for new fans to discover the worlds for themselves, thanks to this definitive look at Star Trek's progress. It's a light read, and a great gift for the Trekkie in your life!
[amazon-product align="left" region="us"]0760343594[/amazon-product]