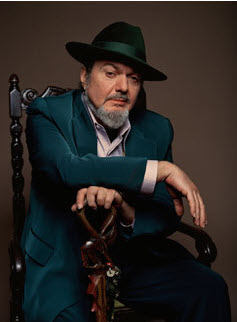 I've previously expressed my love for New Orleans and its music in these pages. The town has a rich musical history that continues to produce an incredible amount of talented artists and performers at an astounding rate. But there is only one contemporary figure whom I would refer to as the ambassador of New Orleans' musical culture: Mac Rebennack, a.k.a. The Nite Tripper, a.k.a. Dr. John. I've wanted to see Dr. John for quite some time, so when I learned that he would be headlining the Flood City Music Festival in Johnstown, Pennsylvania, I was determined to go.
It was worth the wait. Dr. John and the Lower 911 (his fantastic band) did not disappoint, working their way through the Doctor's unique flavor of blues, soul, and New Orleans voodoo mysticism. The roughly two hour set provided an overview of Dr. John's career from his earliest work ("Gris Gris Gumbo Ya Ya") up through his latest disc, the excellent, Dan Auerbach-produced Locked Down ("Locked Down," "Big Shot," "Revolution").
Early in the set, Dr. John pulled out another recent tune, "Save Our Wetlands" from 2009's City That Time Forgot. The track is a biting indictment of oil corporations such as BP and their drilling of the Gulf, seemingly ignorant of environmental and human costs (rather prescient when one considers that the track was released a year prior to the BP Gulf spill). Whether Dr. John and the band were conscious of it or not, the song's lyrics hit close to home: our region is currently struggling against corporate greed to drill and engage in hydraulic fracking – a move that yields big profits but as is increasingly apparent, severe costs to our environment and health. (Even more ironic: the hosting venue was the People's Natural Gas Park.) I of course appreciated the good Doctor's boldness.
An unexpected (at least to me) cover of Howlin' Wolf's classic "Wang Dang Doodle" got the blues-heavy crowd hyped. Yet the audience truly erupted during the 1973 megahit "Right Place, Wrong Time" (much more expected). My personal highlight however, was "Big Chief," which also incorporated classic spiritual "Down by the Riverside."
I was hoping to hear the band rip through "Iko Iko," but "My Indian Red" was the next best thing, bringing a little slice of Mardi Gras to Western Pennsylvania. I thought that I might still hear "Iko" as an encore, but was instead treated to Dr. John playing a gorgeous solo rendition of "Such a Night," which appropriately capped off an incredible evening of music.
At 71, Dr. John may not be as agile as he once was. However, his charisma and musicianship have not waned in the slightest. Hopping from piano to organ (often playing both simultaneously) to guitar, Mac shows that he's still a force to be reckoned with, and New Orleans remains fortunate to claim him as a representative.
Check http://www.nitetripper.com/tour.html for upcoming tour dates and more. for upcoming tour dates and more.