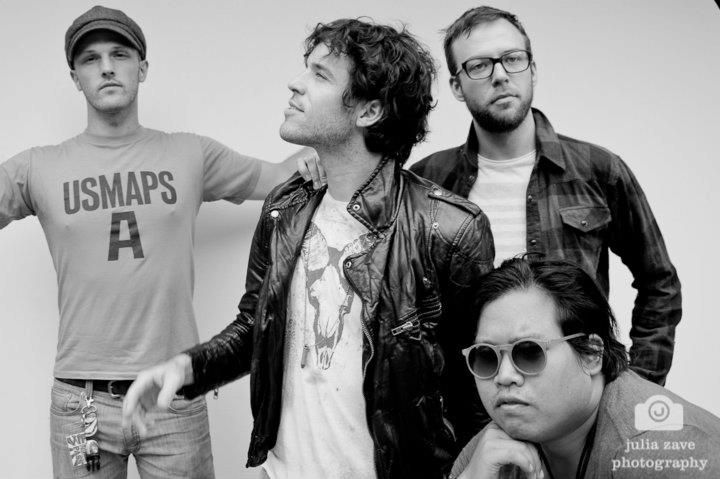 It's the latest (And last Blerd13 of 2011) so we're gonna do you a solid and present the must know band of 2012. They are BLACK TAXI and their sophomore record, We Don't Know Any Better, is out in just a few short weeks (January 14th) and is the perfect album to redeem all those Itunes/Amazon gift cards you'll accumulate when Santa comes to town.
But don't let me talk at you, read on as the members of BLACK TAXI talk about the new album, favorite venues, and more importantly, why you should pay attention to them!
1. For the uninformed, how did BLACK TAXI get together?
KRISANA SOPONGONG (Bass): Ezra and I met in Thailand at the monthly Full Moon Rave. No, it's not like that movie "The Beach", but it was a wild party. I found out that he played music and lived in Brooklyn, so when we both got back from our respective trips, we started making noise together. Bill (guitar) is a friend-of-a-friend of mine from college, and Jason (drums) caught our last show before we were going to lose our first drummer, and ended up taking over.
2. Being a relatively young band, how do you make sure you stand out from the rest of the bands out there?
EZRA HULEATT (Vox, Keys, Trumpet): By conveying through our actions and music the urgency of what we feel.  I believe in what I have written, but getting others to believe, or at least care, is entirely different.  If I am not exhausted physically and emotionally after playing a show, I probably have failed…no matter the size of the crowd, I want to leave my blood on the stage and my soul in the rafters…when people can't forget you, you stand out, so we attempt to make every performance unforgettable.??
KRISANA:  We don't have the budget for lighting rigs or fog machines, but we've become known for entertaining and energetic live performances. People expect to dance at our shows, and for NYC that's a rare thing.
3. As for the new record, how would you compare We Don't Know Any Better to Things of That Nature?
BILL MAYO (Guitar, Vocals): Our first full-length album, "Things of That Nature" was recorded pretty simply…  It was pretty much just the four of us standing in a room playing our tunes until we got a good take.  It's an old school approach, and we got some great tracks out of it.  We even recorded on an analog system.  But we discovered that some of the most interesting parts were elements that were added spontaneously in the studio, the synths, the percussion, odd-ball instruments…  Things that were added after the basic tracking was done.  So this time, on "We Don't Know Any Better", we actually wrote the songs with blank sections that were to be finished in the studio.  Actually allowing for that spontaneous magic in the studio is really important for us.  The studio is like an additional band member, with its own personality that guides the sound.  It took us a while, but we have an appreciation for that now.
4. It's been almost 3 years between your debut and WDKAB. Do you think it's more important for bands to continually pump out albums in order to stay in the public eye or to take the time need to craft a great album (Just a note, some of my favorites take almost 7 years to make a record while others I like have a new album out every year so I'm on both sides of the fence on this)?
BILL:  Well, it's really only been two years and a couple months, but who's counting?  Haha, we'd love to be putting out more material.  We're always writing but we've been so busy playing shows it literally took us that long to get back in the box.  It's certainly important to keep putting out material, and I think our pace will increase in the coming years.?
EZRA: I think it is a good idea to attempt to keep the public eye looking our way, but that attention can be garnered outside of albums.  It can come through videos, performances in random spaces, bizarre covers, or crazy tour ideas.  Don't get me wrong, I would love to be recording continuously and putting out albums at a prolific Beatle-esque pace, but I have found that time between albums builds a healthy tension, and allows the wheat to settle away from the chaff.
5. The thing I noticed the most about WDKAB is that every song stylistically is very different from one another yet the album as a whole is still cohesive throughout? Was that a conscious effort going into the recording or was it just the batch of songs that had been written up to that point?
BILL: It's important to put out a record that flows well.  But you're right, the styles move around a bit.  It's a collection of songs we play live and others that we knew would make good recordings regardless of whether we play them in concert.  BLACK TAXI has never been afraid to cross genres and styles, tempos, and instrumentation.  We've been criticized for it, but I find it complimentary when critics can't handle it.  I have no interest in writing the same song 12 times just to give industry people something they can package.  Our fans (the only people we give a shit about) like the variety and it makes for an interesting live show as well.  The ups and downs of our set are part of who we are.
6.Ezra, do you handle all the lead vocals or do you split them between Bill and Jason? If that's the case, how do you decide who sings on what?
EZRA: Bill and I split lead vocals for the most part.  When he takes over on certain songs, it allows me to fulfill my urge to climb on things and break shit.  I don't know how other front-men do it, but I get bored in the middle, and enjoy checking in on the extremities of audience and architecture.  All of us sing on nearly every song at some point, so there are a lot of harmonies and unisons happening.  Generally I sing lead on the songs I write and Bill sings lead on the songs he writes, but since there is a lot of collaboration, those lines get blurred and we often let the song energy dictate who will be narrator.
7. Songs like "Hand" are great on their own and then the trumpet comes from out of nowhere and just adds something different to the overall experience. What made you decide to bring a trumpet into the mix? Did you already know how to play or did you learn? Does the trumpet make an appearance on stage ever?
EZRA: The trumpet lives arm distance from me on stage, and is one of many instruments that reside in various states of attachment to my keyboard stand.  I've been playing horn since I was in fourth grade.  To me it is still the most beautiful instrument and can spit the soul that my voice often can't.  I've never considered leaving it out of the mix.
8. How did you go about choosing Aaron Nevezie as your producer? What did he add to the recording process?
BILL: Aaron did our first record and we wanted to use him again.  He's an ultra-creative person, and we listen when he guides our music in a certain direction.  I can't say that about many people.  As musicians, we're always trying to create unique sounds with our guitars and drums and keyboards, but Aaron knows how to use the studio as an instrument and it's an opportunity to make something different.
JASON HOLMES (Drums):  Part of what convinced us to work with Aaron was that from the start was he was immediately a kindred spirit.  He welcomed us into his studio and it was clear that everyone who worked with him left their ego at the door.  This provided for a really fertile ground for us to explore different sounds and vibes for our music.  He's worked with such a variety of successful musicians – from The Black Keys to progressive jazz groups – the he really embraced our ideas when they crossed the genre lines.
9. Which of the new songs are you looking forward to the most playing live? Do you have a favorite song on the new album?
BILL:  I love playing "Do What You Gotta Do".  I can really dig in.  I don't have to think about anything technical and I can just feel it.??
EZRA:  "Hand" is my favorite song to perform because it feels timeless every time I sing the lyrics and melody.  For me it defines the energy, heart, sweat, swagger, and soul that make us BLACK TAXI.
JASON:  "We Don't Know Any Better" is pounding and loud but has a fun and syncopated HiHat pattern that is tricky but really ties the whole groove together.  I also get really enjoy playing "Vultures" which starts with a much more sparse feel than many of our songs – it's unassuming and pulls people in only to melt their faces halfway through.
10. Speaking of new songs, what made you choose "Tightrope" as the first single?
KRISANA: We think the song is catchy as !@#K ! That's why we chose it.??
EZRA: The members of BLACK TAXI, despite functioning as a band at times, are grossly opinionated.  We could not decide on the single amongst ourselves, so narrowed it down to 3 songs and then let our PR team decide since they are the ones who gotta push this.  Krisana, of course, got his way.  Bastard.
11. In the age of digital media, how do you engage music fans to go out and buy your music in stores or online?
BILL:  We make our downloads available all over the place.  We're easy to find, and we post about it on Facebook to keep people informed.  But nothing makes me delete a band from my "Likes" faster than when their only posts are "buy our shit".  Over-promotion is a turn off.
12. If you could play any venue in the world from Wembley Arena to a house party at your friends house, what would be Black Taxi's ideal venue to play?
KRISANA: I've always wanted to play in front of the ruins in Pompeii, Pink Floyd style!
13. We Don't Know Any Better is released on January 14th, what's next for the band after that besides world domination?
KRISANA: Hitting the road! Like most New Yorkers, we're trying to get out of the city while it's brutally cold. We'll be playing mostly in the south in January and we'll be doing some runs before SXSW. That should knock most of the cold out!??
EZRA: I like leaving schemes of world domination to dictators and Lady Gaga.  We will tour a lot in the New Year, release a number of music videos, and write songs so good that we will never have to bartend again or attempt medical school.
We Don't Know Anything is out on January 14th. For more on BLACK TAXI, go here or here.