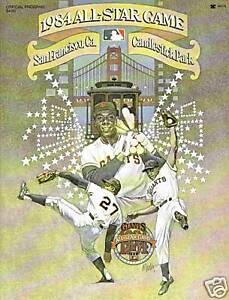 The 82nd Major League Baseball All-Star game is next Tuesday. When I was a young baseball fan, the best day of the baseball season was the day the National League All-Stars played against the American League All-Stars. Remember, this was a time before ESPN televised a few baseball games each week. It was a time before there was a cable station devoted entirely to baseball. It was the only guaranteed way to watch the best players, the guys whose baseball cards I sorted through weekly.
My dad made it out to be a pretty big deal (there's something about the All-Star game and fathers and sons), especially since players on the San Francisco Giants, my favorite team, were on center stage with the stars of the game. During this time, which would be the early to mid-80s, the Giants were terrible and wouldn't really start to get any national love until 1987, so my only real chance of seeing them on national TV was during this game.
I have three fond All-Star game memories. You'll notice that none of them occur after 1993. At some point, the All-Star game became just another game to me. Some of it has to do with the fact that I wasn't a kid anymore, and some of it was definitely that I was able to see all my guys whenever I wanted, including the ability to play as them in video games.
(I have some memories that are memorable for all the wrong reasons including Atlee Hammaker giving up the first ever grandslam in All-Star history to Fred Lynn in 1983, Scott Garrelts not even getting into the game and wearing the most awful glasses you'll ever see in 1985, and Big Daddy Rick Reuschel giving up back-to-back home runs to start the game in 1989, including one to Bo Jackson that may have not ever landed and could be still going.)
1984 All-Star Game
This was the only All-Star game that I've been to in person. I called my dad this morning to make sure I had the correct details. In 1984, during a Bay Bridge Spring Training game against the A's, my dad left me all alone in my seat for an inning or two and when he came back, he said he bought season tickets and that I couldn't tell my mom. Because he purchased a season ticket plan, he was also able to buy All-Star game tickets, which was held in San Francisco.
Fast forward to one of the windiest days in Candlestick Park history. My dad, my uncle Steve, and I were walking around the stadium before the game, hurrying to get to our seats. The wind was blowing so hard, it blew my dad's pro fit Giants cap right off his head. The hat was gone. The game itself wasn't great, partly because of the conditions, but also because it was kind of boring. Chili Davis and Bob Brenly were the two Giants All-Stars that year and each only received one at bat. You'd think that manager Paul Owens would've given the Giants players more love since they were in their hometown? Nope. Brenly looked awful in striking out while Davis lined out. Even though the Giants players didn't fare too well, I did get to see Dwight Gooden strike out the side in the 5th inning (Dr. K! Dr. K!). At the time, Gooden was mesmerizing to me. I tried to copy his long wind-up and high leg kick, but my fastball only shot out at about 45 miles an hour at that time. And now he's on Celebrity Rehab. Dr. K! Dr. K!
1986 All-Star Game
Babe Ruth supposedly called his shot in a game against the Chicago Cubs. We don't know if it happened or not. It may be more legend than anything else. What I do know is that my dad called his shot during this game while we were watching it. And I was so sad that he turned out to be correct.
It was a very close game dominated by pitching. Roger Clemens went three innings for the AL and didn't give up a hit. In fact, the NL didn't score a run until the 8th inning when they started their comeback. Dwight Gooden gave up two runs and Mike Scott gave up a home run to the AL stars. Down 3-0 in the 8th, my guy, Chris Brown from the Giants, doubled to lead off the inning. He eventually scored the first of two NL runs.
In the 9th, the NL was down 3-2, but had two runners on. Again, my guy Chris Brown was up. Brown was a young player who looked like the third baseman of the future for the Giants. He'd eventually peter out and be out of baseball in just a few years. It was pretty clear to me that he was going to get a hit and win the game. In fact, I may have called a double like his at bat before. My dad said that he was going to hit into a double play to end the game. What? Why? He said that Brown was too hyper and that they'd figure out how to get him out. Manager Dick Howser brought in reliever Don Aase (yes, I pronounce it how you probably want to pronounce it, though it's not the correct pronunciation) and just like my dad said, Brown hit into a game ending double play. I was befuddled. How did my dad know? And why was he right?
One cool tidbit is that this was Mike Krukow's only All-Star game appearance and he threw a shutout 9th. I know in the previous memory I said that Dwight Gooden was my favorite pitcher in 1984, but by 1986, it was Krukow. Come on, Kruk had 20 wins that year!
1993 All-Star Game

There is only one reason that I still have fond memories of this game. It was actually a pretty terrible game overall (which is kind of a theme in my All-Star memories). The American League whipped the National League by a score of 9-3. But the reason I remember this game fairly well is because of Barry Lamar Bonds. In 1993, Barry Bonds was in his first season as a member of the San Francisco Giants. He had took the baseball world by storm after signing the richest contract in baseball history. He was the leading vote getter out of all the All-Stars. He had the Giants playing at a high level. And even though the game was built around Cal Ripken because it was at Camden Yards, the real star of the game was Bonds.
In his very first at bat, he doubled and then scored on a Gary Sheffield home run. He also doubled in the fifth before being replaced and I remember being bothered that he was replaced at all. I wanted to see him play the entire game. Bonds was such a fascinating player to me that when I turned 18 the very next year, I had my ear pierced and wore a very low budget version of his dangling cross earring. Yes, I eventually stopped wearing the earring a few years later, and yes, I looked like a huge goof ball, but hey, that was the power and influence of one Barry Bonds.
One cool tidbit from that game is that it was Robby Thompson's second All-Star game selection. Even though I just mentioned how fascinating Bonds was, Thompson was the guy whose game I modeled my own game after. I was never going to be Barry Bonds, but I thought I could be Robby Thompson. He didn't play in either All-Star game because of injury, but in 1993, he had the greatest year of his career. So great, that the Giants chose to resign him instead of perennial favorite Will Clark the very next year which was probably a mistake.
There you have it. Those are my most memorable All-Star game moments. The only reason I care about the game now is because my kids get a kick out of it for about the first three innings before they become bored. Actually, now that I think of it, I do remember the 1999 All-Star game. My first born was all of two weeks old and we watched that game together. Well, we watched it together at least until he fell asleep, which was early, and I don't blame him. It was a really boring game. There's something about the All-Star game and fathers and sons.
Photo of Barry Bonds is licensed under the Creative Commons Attribution 2.0 Generic license