SyFy presents an original movie by Motherboar: Croctosquatch!
by
Jesse
on
Feb 10, 2011
•
10:00 am
1 Comment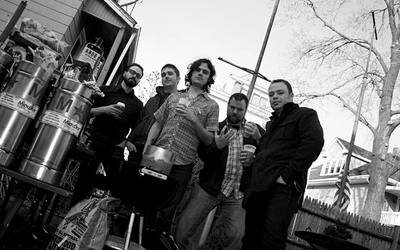 How do you go about reviewing a video? Do you pick apart the song choice? How the concept goes with the song? Production values? Lucky for me, none of the already mentioned topics were a cause for concern with Motherboar's adventurous video for "Croctosquatch".
The lead song off of their latest, The Beast Becomes the Servant, "Croctosquatch" is a beast of a song on its own. Give the song some great visuals (Thanks to Trifecta+ Entertainment) and this beast is unstoppable.
First off, how awesome is the concept of the Croctosquatch? If I don't see this movie on SyFy within the next year or so, my Gatoroids are gonna be flaring! And the best part is, thanks to Motherboar's latest video, they already have their first trailer. Can you imagine it? This Friday night: SyFy presents "Croctosquatch"! Concept and score by Motherboar. I can dream, can't I?
Onto the video. I'm just gonna say it. If you like blood, boobies, and bludgeoning heavy metal; "Croctosquatch" is for you. Think Evil Dead mixed with Friday the 13th complete with an ending that would make M. Night Shyamalan say "What a twist!". Throw in some great performance footage and you have one stellar video.
2011 is already looking to be a monstrous year for Motherboar. If you haven't taken a ride on the 'Boar yet…well, what're you waiting for? Seriously.