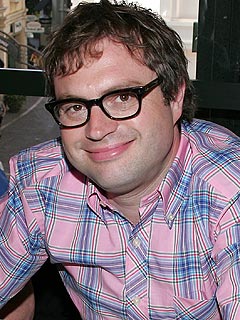 I'd been a fan of Barenaked Ladies for a few years by the time I saw them perform at Jones Beach back in 2001. My attendance at that show not only increased my love for the Canadian band, it also gave me new appreciation for the vocal skills of one Steven Page. I'm pretty sure I said to myself at some point "this guy doesn't really need the band".
That doesn't mean I wanted them to break up. I wasn't happy that Page left the band a couple years ago, assuming (probably correctly) that the whole was greater than the sum of it's parts. I was pleasantly surprised, however, by how good the first sans-Page BNL album ("All in Good Time") was. That album pales in comparison, though, to Page's first official solo single "Indecision".
Far more upbeat (musically, if not lyrically) than his former band's "You Run Away" (a not-so-indirect shot at Page himself), "Indecision" is ear candy to the core. Page is in tip-top vocal shape, and this certainly bodes well for his upcoming album, "Page One", which hits stores on September 28th. If "Indecision" is any indication, Steven Page is gonna be just fine on his own.
Check out the song (and several others) on Steven's website.